Professional Achievements
Indian Achievers' Award for Emerging Company, 2021-2022
Indian Achievers Awards are presented to those who have even proved wrongs the right, for whom challenges are the biggest endeavors, and those who mark their strength in mastering over the best. Primewayz is a recognized organization that has never taken a step back from hurdles and always believed in teamwork because eventually, the success is not for one person; it's for every being whose effort was worth contributing to the company. We created a difference in society through dedication, hard work, coherence, and improvement, which makes us what we own today. It takes immense pride in the fact that each employee at Primewayz strives to achieve mind-blowing heights in finance, repo, growth, and scope with a practical working approach and focussed team goal. The organization has always been a shout-out to all those leading firms questing to content their target audience vigorously with exceptional skills and expert knowledge.
CMMI DEV – LEVEL 3
CMMI – DEV V. 2.0, Maturity Level 3
CMMI, Maturity Level 3 companies incorporate well-defined processes and standards as per the global organizational norms. With a rigorous operational approach, solid guidelines, and established team, organizations are entitled to CMMI DEV – LEVEL 3, which indicates an organization embraces a "defined" level. The certification asserts that a respective company holds characterized processes and described standards, resources, techniques, and other assistance. Primewayz is an eminent IT organization embellished with skilled people and expertise internally. By successfully accomplishing every potential target, our organization is enthusiastic towards its continuous improvement for attaining Maturity Level 5 that defines a company's true process optimization. Our team is equipped with adequate resources, prime skills, and specialized knowledge to serve the industry with full contentment and maximized productivity. We have technological expertise embracing years of honest experience and professional knowledge in software development, digital transformation, and much more industrial with a diversified client base.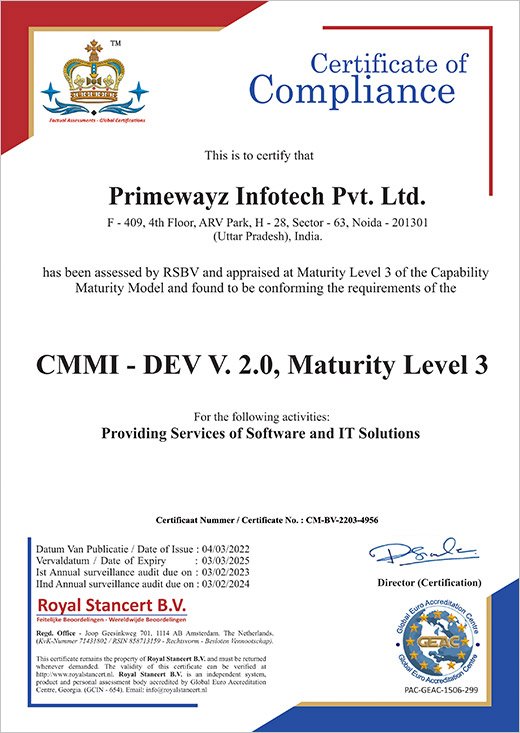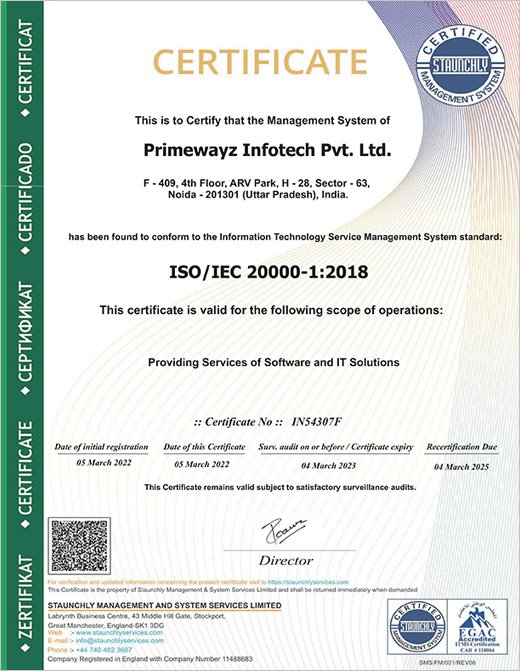 IT Authentication
ISO/IEC 20000 – 1:2018(Certificate No. : IN54307F)
The International Organization For Standardization or ISO and the International Electrotechnical Commission or IEC form the competent, specialized, and professional worldwide standardizations. It's an immense honor and gratification that Primewayz is certified with ISO/IEC 20000 – 1:2018, indicating that our organization maintains and performs software and IT solutions incredibly well. We feel great pride in the fact that our organizational management system has been found to conform to the Information Technology service management standard, ISO/IEC 20000 – 1:2018. Our operational portfolio is end-to-end compiled with a smooth transition, high-end Service Management System (SMS), and constant adherence to deadlines to ensure our clients experience quality services with consistent support.